Full Day Short Game School
8 a.m. to 4 p.m.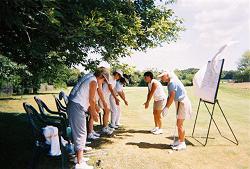 The essence of becoming a proficient woman golfer begins with understanding and developing sound short game fundamentals. Focusing on your score improvement techniques around the green that include chipping, pitching, putting, and sand play will drastically improve your scoring ability. Learning to hit pitch shots from various distances will complete your full development of these score saving techniques. Managing these short game fundamentals and applying them on the golf course is crucial to building confidence and reassurance that you can play golf with anyone! As a bonus, enjoy a round table discussion with your instructors and learn all of their short game secrets!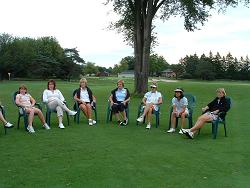 SIGN UP
...for a full day that includes...

* 8 hours of short game training
* Complimentary 9 holes of golf with your LPGA Teaching Professional
* Continental breakfast & lunch
* Round table discussion and cocktail hour with your pros
* "Score Improvement Techniques"
* "Short Game Management On The Golf Course"